EXPERT ADVICE FOR CHILD SAFETY
At Buckingham Blinds we place the greatest importance on child safety in our clients homes.
Over the years the UK blind industry has seen significant product development to design blinds that operate without cords or chains. Vertical blinds and Venetian blinds can be operated by a wand to operated by wands to push and pull the blind into position. Our duo roll motorised blinds offers child safe operation and ease of use, with a wireless remote control. See more ideas on the BBSA video.
Children always love to climb, play and explore and the potential dangers may not be immediately obvious. Simple measures can be taken to minimise these dangers and keep your child safe. Moving all furniture, cots and beds away from windows and ensuring cords do not twist, become tied together or create a loop. With Buckingham Blinds you can be confident that you are in safe hands with our child safety advice.
OUR CHILD SAFETY PROMISE
We have the expertise to ensure the potential risks posed by unrestrained chains and cords are explained and eradicated.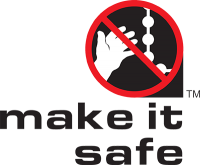 We have an fantactic range of child friendly cordless blinds, perfect for bedrooms and nursery's or any other room in your home.